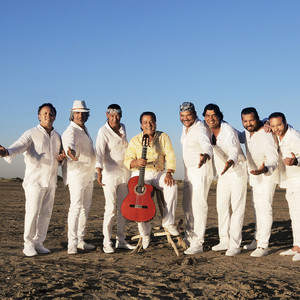 UK Tour dates 2015
To book tickets and further information: www.gigantic.com/chico-the-gypsies-g-live-2015-10-21-19-00?utm_source=songkick&utm_medium=affiliate&utm_campaign=songkick
CHICO – CO-FOUNDER OF THE GIPSY
Chico has built up a phenomenal worldwide audience of millions of music fans from his native France to Japan via Dubaï; the band's infectious brand of rumba, flamenco and Latin pop and rock tunes is joyful, flamboyant and hugely entertaining. Yet, there is so much more to the architect of the Gipsy Kings' success which saw them become the first French group to be awarded a platinum disc in the US and go on to sell an estimated 20 million albums, making them the biggest world music crossover act, well ahead of the Buena Vista Social Club.
Their latest UK release FIESTA has now sold in excess of 120,000 copies in France. Chico was co writer of their biggest hits Bamboleo, Djobi Djobi, and Soy and still enjoys writing songs with the passion and excitement of which Gypsy Music creates.
As well as leading Chico & the Gypsies and releasing a dozen best-selling albums since the early 90s, Chico is also a UNESCO special envoy for peace and a keeper of the gypsy culture flame. Although he is not actually of gypsy extraction he developed a unique kinship with the rich travelling culture and its traditions that were transported from Catalonia to the Mediterranean regions of southern France at the start of the Spanish Civil War of 1936-1939.
Born Jahloul Bouchikhi in Arles to a Moroccan father and an Algerian mother, Chico grew up in Provence where he was befriended by the Reyes family headed by José Reyes, a renowned flamenco artist and gifted singer who performed with his cousin, the virtuoso flamenco guitarist Ricardo Baliardo aka Manitas de Plata, in the early 60s. Inspired by the manouche (gipsy jazz) legend Django Reinhardt, they helped popularize a style of music influenced by the rhythms of the Afro-Cuban rumba.
José Reyes then set up the band Los Reyes, later to become The Gipsy Kings with Chico (who had by this time married Jose's daughter Marthe) and various family members, travelling around France, playing at weddings, festivals and in the streets.
In the early 80s, legendary French filmstar Brigitte Bardot was so taken with The Gipsy Kings that she asked them to regularly entertain guests at her beach house in Saint-Tropez and word of mouth started to grow. The Gipsy Kings became mainstays of the French airwaves and TV schedules with Djobi Djoba, Bamboléo and their inspired remake of the Claude François/Frank Sinatra standard Comme D'Habitude/My Way retitled A Mi Manera. In 1986 they met legendary producer Claude Martinez and signed to Elektra for the US. They performed in Mexico, Australia, London and their audiences grew by the shed load all loving the musical melting pot that reflected their gypsy origins and their easy-going, engaging embrace of the diverse cultures of the Mediterranean and beyond.
The Gipsy Kings' 1989 album Mosaïque included an infectious version of Volare (Nel Blu Dipinto Di Blu) which continued their run of hit singles around the world and led to more world tours. But then Chico began asking questions about royalty statements…and found himself out on a limb and out of a job…Undeterred, Chico formed his own band, CHICO AND THE GYPSIES, in 1992 and quickly built up a reputation and a return to the charts with passionate, imaginative albums like Vagabundo in 1996, Fiesta, and Chantent Charles Aznavour, the collection of covers of songs by the hallowed French singer which has now sold in excess of 250,000 copies. Aznavour was one of the many guests on the 2012 set Chico & the Gypsies . . . & Friends which also featured Nana Mouskouri on a wonderful new version of Volare and Collectif Métissé teaming up with Chico and co to rework Don't Let Me Be Misunderstood, the jazz-soul standard associated with Nina Simone. …& Friends also showcased the heady Salam Alaikoum, a collaboration with the raï vocalist Cheb Aissa.